This year, The American International School of Cape Town (AISCT) turns 25. AISCT was established in 1997, with our first academic school year beginning on September 16 of the same year.
We began in a double-story home in Rondebosch with 18 students. The founders, one of whom was Dr. Pat Gorvalla, a South African educator and businesswoman, saw the need for a school with an international curriculum that followed the northern hemisphere calendar, one that could serve expatriate families living in Cape Town who were with consulates and NGOs, in addition to providing pathways abroad for South African students.
Starting with grades Pre-Kindergarten to Grade 8, the school was initially accredited by the European Council of International Schools in the United Kingdom. Enrollment quickly grew and the hunt for a larger campus began.
Since 1949, 42 Soetvlei Avenue in Constantia has been a place of dedicated learning. In November of 1948, the Sisters of Notre Dame from France were granted permission by the Vatican to start a training school in Cape Town. They found an idyllic piece of land, originally part of the Sweet Valley Farm, on which to build their convent and school. The legacy they left behind are the beautiful Cape Dutch style buildings that house AISCT's learning spaces today.
After 25 years of running their primary school, the Sisters' funding from the Vatican dried up, and the property was handed over to the South African government. The campus then became a reformatory for girls, but after some time the school was closed and the campus was left empty.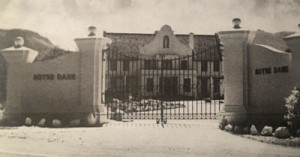 When the Board of AISCT investigated the property, it needed a lot of work to bring it back to its original grandeur, but the Board members had a clear vision of what it could be. They leased the property from the South African government in 2001, starting immediately with complete renovations, and they opened the doors to students in January 2002.
Continuous Campus Improvement
This year marks 20 years of learning on our current campus. During those years, we have added and expanded while maintaining the historical richness. An example of this is the Little Theater, which was once a chapel and still has its original stained glass windows. It is a historical landmark that adds to the unique feel of the AISCT campus. The campus today includes multiple sporting facilities, performing arts spaces, spacious classrooms, outdoor playgrounds, extensive grounds with indigenous gardens and more, all nestled below the beautiful mountain scenes of Cape Town.
Through our commitment to environmental sustainability, our campus has also earned Silver Status as an Eco School. We are waterwise with rainwater and groundwater collection, saving 1 million liters of city water each year. We have solar panels and retrofitted LED lights, which reduce our electricity consumption by 50%.
An American School in Cape Town
AISCT's enrollment steadily increased to our current enrollment of just under 500 students. It has become a school for all nations, with over 50 nationalities represented in the student body. We were accredited by the Western Association of Schools and Colleges (WASC) in 2006 which allowed us to develop pathways to the USA, as well as the rest of the world, for our expatriate and South African students. AISCT is also endorsed as an independent school by the Western Cape Education Department.
Our first graduating class was in 2007, and since then, our students have gone to universities and colleges all over the world and have received millions of US dollars in university scholarships. The USA, Canada, UK, Europe, and South Africa are the most popular destinations with AISCT graduates. This past year we celebrated students getting offers to Oxford University, Cornell University, Brown University, Howard University, The University of Edinburgh, The University of British Columbia, among many others.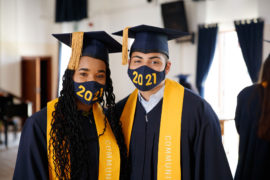 Inclusion and Diversity
AISCT was started as a school that would bring together students from varied and diverse backgrounds, and this holds true today. We believe a diverse, inclusive, and equitable school community is critical for all of us to participate in a complex and interconnected society. We provide a space where all members of the school community feel a sense of belonging.
This is who AISCT is today. Read the full AISCT prospectus here.